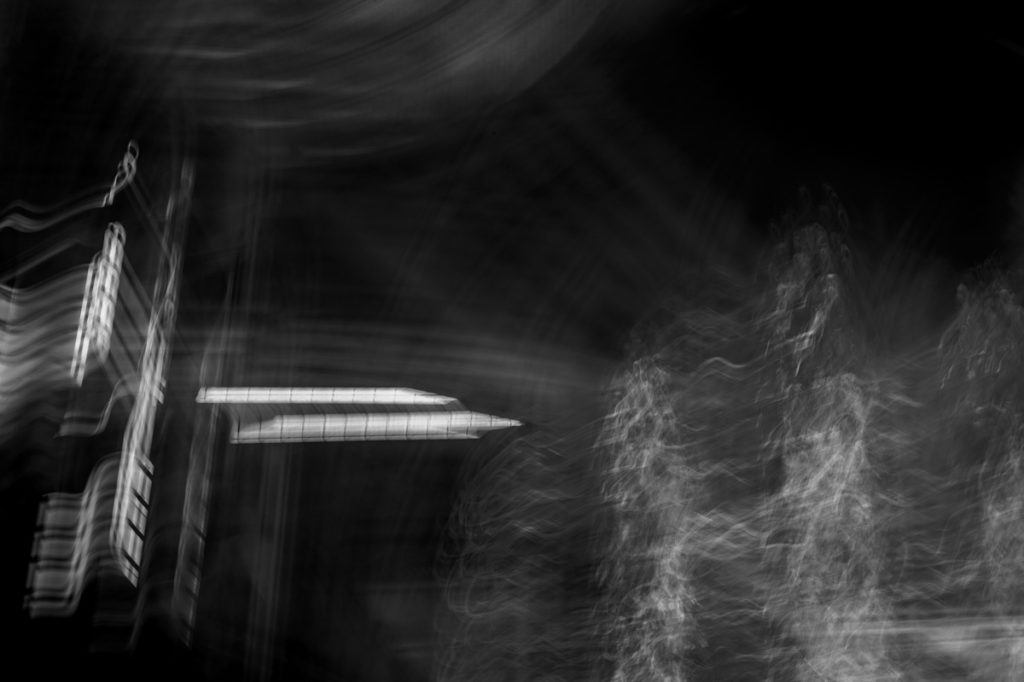 "My work constitutes a thought process on the nature of light – a quest for its essence.
I borrow light, in its most primitive form, as raw material, as the foundation, the architecture of my entire photography. Light is not used as something that can show or illuminate what is around us, but only for what it really is, for its undulating, corpuscular nature.
I fashion this light in such a way that its filtering, reflection or dazzling may redefine the space I happen to be in and offer a different perception of the world.
I ask the question of whether our actual perception is but a placement of our own selves in relation to the universe, and as a result, if this perception shapes our own comprehension of reality, or should I say, of a certain reality.
My work is part of a meditative endeavor, but one where I am personally detached from any introspection. I like the idea of being crossed by atoms, of feeling so vast that we have a sense of being in every place at once, yet also focused on just one point, the one my camera happens to be located in. I engage in long working sessions to record the vibration of a place, its atomic resonance, or its indecipherable atmosphere, and like a film whose duration plays out in just one image, a story unfolds according to the diction of scenography and movement whose inspiration is in sync with the elements composing this very place.
In my work on the "Metamorphoses", light intervenes in a specific way on the reflection of objects, so that their scene setting in situ creates figures akin to dilated bodies, figures composed of floating ethers coalescing in complex and destructured shapes that the image, when developed, restores, as if they conformed to a potential reality.
These bodies do not belong to space or time, nor do they belong to our world, they are but aggregates of waves and particles locked in a perpetual motion, elements which come and collide with my inverted T wave, just for one, brief moment.
My photographic writing is direct, that's to say that it enters into a narrow relationship with the material. It is born from a meeting that takes but an instant, fixed on the border of temporality, caught between a being and the universe. This is what we could call a point of contact between Heaven and Earth.
There is no such thing as chance, merely synchrony. My meeting with the DF Art Project is of this nature. I would never have thought that there could exist as many common points.
And if this beautiful meeting with Déstructuralisme Figuratif took place, it is also because all the elements had come together so that my work could contribute a humble stone to their edifice. And above all, the DF Art Project involves a communion of individuals around a societal thought on human beings and the infinite possibilities of transgressing their shape through a fragmentation of the figure. A whole aspect of my work enters into consonance with this position, one where figures dilate, and where this full expansion of my imagery aptly questions the conceptualization of these shapes and their quantic connection to reality."
by Éric Petr
About Figurative Destructuralism
The structure DF Art Project, represented by the Figurative Destructuralism movement, is an artistic collective of living plastic artists sharing a vision of art which is common to them and by which artistic work is oriented towards a fragmentation of what is real. This reality is put into perspective, distorted or dynamically transformed.
Through this conceptualization, the artists position themselves against a rising tide of individualism, where human exchange has given way to rampant loneliness. Their introspective focuses on analysis and the multidimensional creation, where the surreal comes to the fore and where, more generally, new less human, more virtual interactions are created.
These perceptions aim to reveal, through what could be called an optimistic rally cry, a situation, probably generational, of a globalized society in the throes of mutation facing – a society faced with an uncertain, ever-changing future.
Through artistic creation, the DF Art Project presents its considerations on a society where true possibilities for the emancipation of mankind as well as like the independence of human imagination are being redefined.