ARTIST PHOTOGRAPHER FROM MARSEILLE
My photographic work is a reflection on the essence of light.
It questions that observation would impose certain limits on our perception of reality. It shows the fragility and beauty of life in a world that is constantly swirling and brutal.
During the realization of my photographs, I compose my colors, I draw my shapes and I vibrate gleams that I extract from eternal places to write from this pencil of light composed of billions of photons, celestial stories of invisible worlds on my negative or my sensor.
My writing is direct. It is born from the encounter of a moment fixed on the thread of timelessness between being and the universe.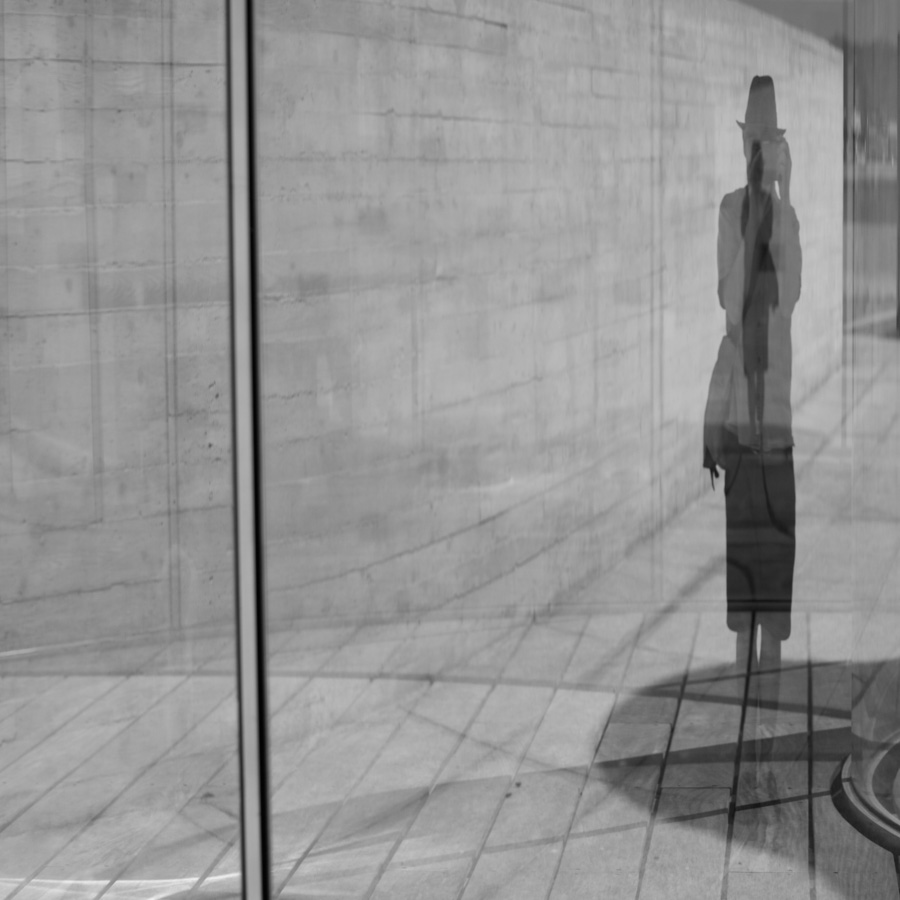 Biography
I was born in Provence, and I have been lived for many years in Marseille, that I love.
Very young, my photographs, variations of light and matter, speak of our relationship to the universe.
My aesthetic choices were first oriented towards minimalist compositions and monochrome prints.

However, the advent of digital in the early 1990s marked for me a moment of questioning and questioning.
A break with photography was necessary and it gave me time to reconsider my relationship to the image and the camera.

In 2003, the desire to create photographs again to capture the timeless suddenly imposed itself on me.
Since 2013, I have been expressing myself as a visual artist and it was from the year 2016 that my efforts began to be rewarded with exhibitions and the production of an author's book published by Corridor Éléphant.

Today, I work on this reflection on light with a very contemporary writing of the image.
I am open to any artistic project, exhibition or for any personalized order.
All my works are for sale, in limited edition, and I invite you to visit
my Art Shop page.

Exhibitions and Meetings
2023
・Paris Town Hall 8th | CNFAP [Thema : Forêts] March 13~25 (group)
・Arles CNFAP & La Grande Vitrine [Rencontre Art & Philo] March 28 (solo)
・Kyōto [RN Hors les Murs] April 26~30 (group)
・Paris Ville A des Arts | CNFAP [Thema : Murmur] October 3~15 (group)
2022
・Virtual exhibition in 3D [DF Art Project] March / April (group)
・Poitiers [LE BLOC] DF Art Project, May (group)
・Paris [Destrucuralisme Figuratif] Pavillon of Parc Floral, October (group)
・Paris [Réalités Nouvelles 2022] October (group) ​
2021
・Marseille [Hôtel Le Corbusier] May to September (solo)
・Paris [Galerie Le Génie de la Bastille] DF Art Project, June (group)
・Paris [Festival Éléphant in the Room] Corridor Elephant, TK21
& Vanda Spengler, September (group)
・Paris [Galerie Mémoire de l'Avenir] DF Art Project, September (group)
・Paris [Galerie Abstract Projet] July (group)
・Paris Convent of the Cordeliers [Réalités Nouvelles 2021] October (group) ​
2020
・Paris [Galerie Abstract Projet] July (group)
・Member of the Jury | Selection of NIEPCEBOOK #14
2019
・[Fontaine Obscure] Presentation of my work, January (solo)
・Blackcurrant (13) [3e Salon d'Art Photographique] February (group)
・Florence [Galleria Merlino Bottega d'Arte] March (group)
・London [Royal Opera Arcade Gallery] April (group)
・Arles [Festival Voies Off 2019] La Grande Vitrine Gallery (group)
・Eyguières (13) [Parc des Frères Recordier] August (Nomade Collective)
・Shenyang (China) [Galerie 1905] July to October (group)
・Shenyang (China) [Académie des Beaux Arts] September (group)
・Paris [73e Salon Réalités Nouvelles] October (group)
・Tokyo [Ringoya Gallery] November (duet)
・Member of the Jury | Selection of NIEPCEBOOK #11
2018
・Eyguières (13) [Galerie Agora] January (group)
・[Rendez-vous aux Jardins] National event, June (group)
・Marseilles [Espace 3013] with CPM October (group)
・Paris [72e Salon Réalités Nouvelles] October (group)
・Tokyo [AS Antiques Gallery] November (trio)
・Marseilles [Espace GT Art Contemporain] December (group)
2017
・Marseille [Aéroport Hall4] March (solo)
・Paris [Galerie Abstract Projet] April (group)
・Bernin, Château de La Veyrie with ]RN structure[ May to September (group)
・Carry (13) [3e Salon d'Art Photographique] October (group)
・Paris [71e Salon Réalités Nouvelles] October (group)
・Tokyo [Ringoya Gallery] November (duet)
・Marseille [Espace GT Art Contemporain] December (group)
2016
・Paris [70e Salon Réalités Nouvelles] October (group)
Articles, Editions and Interviews

Décembre 2022 > Article "Et la lumière fut !" by Alison Moss in the LE QUOTIDIEN DE L'ART Magazine
May 2021 > Analysis text on my photographic story "NUIT RADIEUSE" in the Contemporary Art Review CANOLINE CRITIKS
May 2019 > Publication on my photographic story AMOUR in the art magazine TK-21
April 2019 > Article in ART EXPERTISE magazine
January 2019 > Dreamlike portrait by the writer PATRICK LOWIE published by PAT editions
September 2018 > Minute portrait by Alceste Louleux in the Contemporary Photography Review CORRIDOR ÉLÉPHANT
March 2018 > Analytical text on my photographic story AMOUR in the Contemporary Art Review CANOLINE CRITIKS
February 2018 > Interview by Pierre Léotard in the photographic magazine 9 LIVES
January 2018 > Photographic analysis in the Italian magazine SCRIPTPHOTOGRAPHY by Giuseppe Cicozzetti
April 2017 > Interview in THE EYE OF PHOTOGRAPHY
February 2017 > Publication of the photographic book "SPIRITUALS ODYSSEY" in limited edition at CORRIDOR ÉLÉPHANT
November 2016 > Interview in LELITTERAIRE.com with art critic Jean-Paul Gavard-Perret
​